No.1 Moving company in Abu Dhabi
As a best Moving company in Abu Dhabi RM movers to bring ease in house move by providing professional move services with our own trained teams.
We at RM movers pack everything with due care and diligence. We have our own fleet with a number of closed trucks where we move everything safely and professionally. We are neither an on-demand platform nor have we outsourced our work to other movers. We create a relation between our customers and offer the quality premium move experience to make the move hassle free. We have been in the moving business for about 12 years. We have a professional crew who knows what they are doing and how to do it.
Moving Services in Abu Dhabi & UAE
Pre-cautions taken During the Move Process
"Staff will be wearing masks at all times"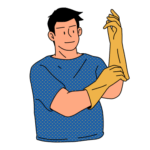 "Staff will be wearing gloves and they will sanitize their hands quite often"
"We can deliver boxes to you in advance so that you may pack your items yourself"
"We will continuously monitor the guidelines issues by Local Authorities"
REVIEWS FROM SOME OF OUR 10k+ HAPPY MOVES
Thank you very much Really you have a fantastic team, they did all the hard Work paceintly, even when I confused in places of some items they do replaced them. Thank you very much
Sergio Noronha
2023-08-04
Great job.
The shifting & moving of our stuff took almost full day but nonetheless, I am happy with their professional service. Would even recommend it!
mohamad al mokdad
2023-08-03
Everything ok, team working very hard and nice talking
arun dhanawade
2023-08-03
Very good - Excellent
Leonardo Maimoni
2023-08-03
Really good moving company. All the team is great. Zain ibrar yaseen and said, thanks so much.
Amazing experience, fast professional and all the furniture was transferred in same condition nothing damaged or broken ! Great job guys
WILLIAM SOWRIMUTHU
2023-07-31
RM team lead by Mr Abubakar and Mr Osama did a great job.
Your people did a wonderful job