Villa Movers in Abu Dhabi
Thinking to move the villa? Hire our expert villa movers in Abu Dhabi. We provide the best moving and packing services in Abu Dhabi and Dubai.
Are you looking for villa movers in Dubai? 
If yes, then you are on the right platform. Our dedicated professionals ensure to make your transit as smooth as possible. We, the best moving company in Abu Dhabi, take great pride in providing personalized service to our customers so that you can have peace of mind when it comes to moving villas. Our Villa Movers in Abu Dhabi recognize that every move is unique. We alter our service to match the needs of our customers, which ultimately results in peace of mind and success. Keep reading if you are ready to learn more about how we can help you with your upcoming villa move.
Best Practice Before Moving
Select a temporary residence before moving the villa
Being the best villa movers in Dubai, we recommend you think about the relocation of your belongings before moving. If you have not found the villa of your dreams yet, but need to vacate the place you're currently residing in on the agreed-upon time, make sure to find a temporary residence for yourself. Our professional packers and movers in Dubai are here to take care of your possessions. They ensure the safe and sound delivery of your belongings at the destination.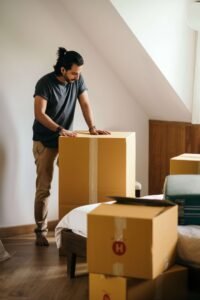 Aren't you able to make time for packing?
Planning will avoid your things being left out and in the rain on moving day. Best Villa Moving Services in Abu Dhabi are available now with just one call. Have you not started packing anything yet if you do not get time from your hectic schedule and responsibilities? Don't worry; our villa movers in Abi Dhabi professionals are here to help you. We strive to provide all of our customers with a stress-free and highly organized move. One of the ways we do this is with well  trained team of villa movers in Abu Dhabi. If you decide to hire these movers, they will guarantee that the whole process is fast and free of hassles.
Customer satisfaction is our priority:
People move due to different reasons, and all of them have the same desire that their belongings reach their new destination safely. Our focus on customer satisfaction has led to establishing an excellent packing and moving company in Abu Dhabi and Dubai. Similarly, our company of villa movers in Abu Dhabi ensures the safe relocation of your belongings. We are proud to see you smile when your possessions reach their destination safely.
Moving with kids:
Moving house can be a life-changing occasion for the whole family. Your children, in particular, will have a stronger emotional reaction to the move than you. Selecting us as your villa movers in Abu Dhabi means you don't have to lift a finger. Therefore, we take care of packing and transporting your items while you tend to your kids.
We guarantee safety and security:
We, the best villa movers in Abu Dhabi, have top-quality truck drivers on our team. Our professional movers and packers in Abu Dhabi know villa-specific packing and moving protocols. They can carry heavy loads and bulky items easily with the help of lifting techniques and trucks.
Our company provides moving services in Abu Dhabi and Dubai, including making sure your heavier furniture has the proper pieces to move easier. Your move coordinator will assemble a list of your belongings so that nothing is lost. Packaging the goods by their size helps ensure that we don't break them. Examples include flat-screen TVs, pianos, cupboards, heavy old chairs, mirrors, and vases.
Affordable Villa Movers In Abu Dhabi:
When the move comes, we often feel like we're low on funds for everything. Fortunately, we have the best rates to make moving accessible for every budget. It means that you don't have to worry about hiring the best moving company in Abu Dhabi. Our staff is so cooperative because their only priority is satisfying you.
Why hire our services:
You can trust our villa movers in Abu Dhabi with years of experience and a long-distance moving record. We have expert and skilled professionals in our team who will take care of your belongings properly. They are devoted to providing high levels of customer service and working with you to ensure a trouble-free move. Moreover, we have well-maintained vehicles and a team of experienced staff. Our team will care for your belongings as if they were their own.
We have the best team of qualified, well-trained professional movers in Abu Dhabi. Our movers guide you properly through the moving process. This is why it is better to have a location for storing your things before moving. For packing, trust our moving company in Abu Dhabi and Dubai. When we are on the job, we aim to make our customers happy. In other words, we do everything possible to secure your belongings. We have the cheapest rates, so come now and seize the opportunity. To sum up, give us a call, and book the best villa movers in Dubai for your next move